Festival of Work: Why job automation is an opportunity, not a threat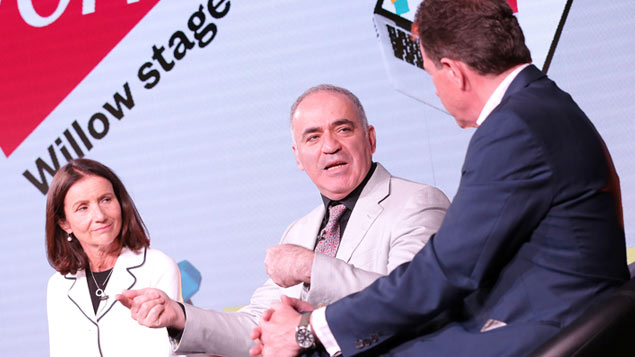 Job automation was hotly debated by speakers at the CIPD's Festival of Work conference this week, with many agreeing that it will replace many middle-skilled occupations. But this shouldn't be seen as a threat to the human workforce, as Ashleigh Webber reports.
Until very recently, job automation and the idea that artificial intelligence (AI) would put swathes of the workforce out of work seemed distant concerns. However, with Amazon recently rolling out 200,000 robots across 50 warehouses and two NHS hospitals in London introducing software to automate certain back office functions, the concept of a "robot workforce" appears to be rapidly becoming reality.
Job automation
Women at highest risk of losing roles to automation
What challenges will HR face in the next 10 years?
Talent pool fails to keep pace with rapid rise of AI
This was the consensus at the CIPD's Festival of Work this week, where the agenda was dominated by sessions considering the impact, implementation and ethics of job automation. And rightly so, with minister for small business, consumers and corporate responsibility Kelly Tolhurst stating that one in seven jobs would be replaced by automation over the next two decades.
But while some workers, especially those in more manual and routine roles, will be worried about job security as the technology becomes more viable for organisations, there are reasons for optimism: not only will it allow humans to take more creative roles, technology will also open up opportunities for groups who currently struggle to access the workplace.
"AI will bring millions and millions of people that never had access to the job market, many of whom have great talents, but they never had the opportunity to put them on display," said Garry Kasparov, chair of the Human Rights Foundation and a former chess world champion who competed against IBM supercomputer Deep Blue in 1997.
"Now AI can help blind people hear what a machine sees and deaf people to see what a machine hears. There's so many opportunities and there's a new army of talented people that could actually become part of the new employment landscape."
Kelly Tolhurst said there was a need to ensure that work is "opened up" to everybody – and the workforce is now more diverse than ever, partly thanks to tech.
"Compared with 2010 there are now more than two million more people aged 50 and over in work, with 9,000 disabled people joining the workforce in the last five years," she said. "Now we need workplaces where people can be their best mothers, fathers, carers and everybody else."
Hollowing out the workforce
The "hollowing out" of the workforce will begin with middle-skilled, routine roles, explained Vicky Pryce, chief economic adviser at the Centre for Economics and Business Research.
"But the question is: what other jobs are we going to be able to create?" she asked, noting that replacing humans with machines has, so far, not translated into productivity gains.
It's widely understood that the jobs of the future will need to incorporate human skills, such as creativity, empathy and critical-thinking, yet Kasparov claimed only around 4% of jobs in the US required human creativity. This proportion needed to be much higher to offer opportunities to people whose roles were being replaced by automation.
"What does this tell us? Ninety-six per cent of jobs are 'zombie jobs'. They're already dead – they just don't know it," he said.
"It's not that machines are getting more human, it's that we create so many, well paid, jobs that require machine-like qualities.
Eighty-five per cent of transformations fail because of legacy trust issues before the transformation has even begun," – Andy Young, Accenture
"Unless we view AI as an opportunity to unleash our creativity, all jobs will be in danger… Unfortunately AI will destroy jobs before it can create new ones."
But removing mundane tasks and automating the most "boring" parts of the job would ultimately create a more engaged, happier workforce, suggested Kate Davies, chief executive of Notting Hill Genesis, a developer that provides homes for lower-income families in London. She said she hoped automation would allow staff to use their "distinctly" human skills, such as spending more time engaging with customers.
Reskilling is imperative
Employers needed to act now to prevent widespread job losses, suggested Sally Eaves, a member of the Forbes Technology Council. While new technology will create countless jobs in areas such as  data science, digital transformation and process automation, for example, many existing roles were in danger of soon becoming "redundant" – including accountants, lawyers and administrative workers.
Eaves highlighted research from the World Economic Forum that found more than half of staff will need up-skilling or reskilling by 2022 – just three years away.